Let's pray for ourselves and our parish using some words from Paul's letter to the Ephesians.
"I pray that you, being rooted and established in love, may have power, together with all the Lord's holy people, to grasp how wide and long and high and deep is the love of Christ, and to know this love that surpasses knowledge – that you may be filled to the measure of all the fullness of God." Ephesians 3 v 18 -19
Please use these suggestions for prayer each day so we can join our prayers for our community together as a congregation.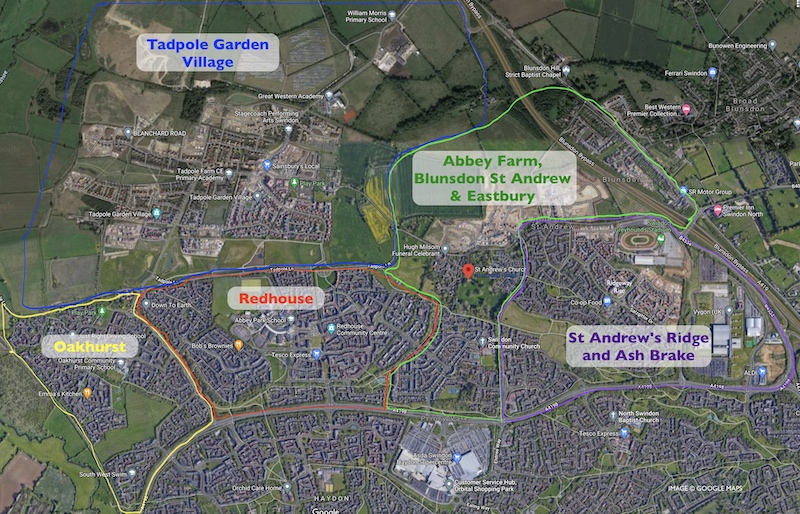 Monday
Pray for all who live in Oakhurst or who work at or go to Oakhurst Primary School.
Tuesday
Pray for all who live in Redhouse or who work at or attend:
Abbey Park secondary School
Red Oaks Primary School
Uplands Special Secondary School
Brimble Hill Special Primary School
The shops in the district centre
The Community centre
Wednesday
Pray for all who live in Tadpole Garden village or who work at or attend:
Tadpole Farm CE Primary Academy
Great Western Academy
William Morris Primary School
Churchward Special Education School
Sainsbury's, the hairdressers and Project Coffee
The Strawberry Thief Pub
Building sites
Sales offices
Thursday
Pray for all who live in Abbey Farm, Blunsdon St Andrew and Eastbury or who work at or attend Bridlewood School or the building sites at Abbey Farm.
Friday
Pray for all who live in St Andrew's Ridge and Ash Brake or who work at or attend:
Ridgeway Rise care home
The Shops on Highdown Way
The Jovial Monk
Busy Bees Nursery
Vygon
Aldi
David Lloyd Gym
Bloor home Offices
The Harvester
Robin's Farm
Blunsdon Arms
Greyhound and Speedway Stadium
Saturday
Pray for the street where we live and for our neighbours.
Sunday
Pray for St Andrew's: for our congregation and that God would show us how to fulfil our role in this community.