What is Stewardship?
The church is the body of Christ on Earth, and we are encouraged in the Bible to give of our money, time and talents in the support of the work of the church.
It can seem like the church is always asking for money – but it is not possible to keep our clergy in place or to maintain our building and churchyard without money. Expenses go up every year, but it's easy to let our contributions stay at levels that seemed reasonable long ago.
This isn't just about money, though. By giving time, we respond to Jesus' call to love our neighbour. And we all have talents to bring to the life of the church.
A Letter from Sally
I am sure you will agree that knowing we follow 700 years of Christians who have worshipped the same God in the same place is an inspiring witness to God's faithfulness. God has sustained his people here, through turbulent and prosperous times enabling this congregation to continue sharing His love with those around us. Our God is so generous that He gave his whole life for us, in the death of Jesus, and He calls us to share in His generosity as we continue to fulfil our role as His body here in North Swindon.

We are encouraging all members of St Andrew's to reflect with gratitude on God's great generosity during Lent and then to consider how we might all contribute to sustaining the life of St Andrew's into the future. You will find more details in the video above. We'd also love you to join us on Zoom at 7pm on most Thursday evenings in Lent starting on the 10th March for a service of Evening Prayer focussing on God's gracious provision – see online for details.

I am very grateful for all the gifts you have already given to God, through St Andrew's in time, talents and money and ask you to set aside some time to pray how you might extend this in the coming year. Please complete the form below (or use the paper form, in church or the post from Sunday 27th) and may you know the blessing of God's generous love as we prepare to celebrate the joy of Easter once again.
God bless and thank you Sally, Priest-in-Charge, St Andrew, North Swindon
Time
There are many ways that you could make use of some spare time to help in the work of the church. Here are just a few suggestions:
Contributing to the weekly services by

Reading a lesson or leading prayers in church
Helping as a sidesperson
Helping with refreshments after church
Helping with children's work

Contributing to the leadership and administration of the church by

Joining the PCC
Becoming a churchwarden

Contributing to the outreach of the church by

Being a church school governor
Supporting Acting Out in creative ways to serve our community

Help maintain the building and churchyard by

Taking part in churchyard clear up days
Church cleaning
Flower arranging
… and many more possibilities. If you aren't sure what you might do, talk to Sally or one of our PCC members.

Talents
The Bible makes it clear that we all have different talents that enable us to contribute to the work of the church, just as the different parts of a body contribute to the whole. Whether you are good with words, a musician, handy at woodwork, green fingered, an eloquent speaker, great with finance, a gifted organiser – whatever your talents there is a way that you can make use of them to help with the church's life.
Spend five minutes jotting down what you enjoy doing and what you are good at. This isn't a place for modesty – no one else will see this. Use your thoughts to come up with one or two ways your talents (spare time or professional) could make a difference to the life of the church.

Money
Where it goes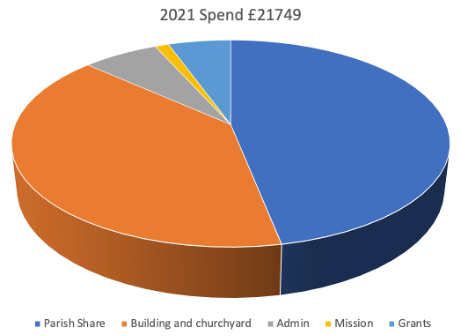 The Parish Share is paid to the diocese to contribute to the cost of having a vicar (we currently pay about 20% of this) and running the diocese: we contribute less than we should – the requested parish share would bring budgeted spend to £23,372 on the 2022 figure. Mission covers outreach and youth/children's work, while grants are our charitable donations.
How we contribute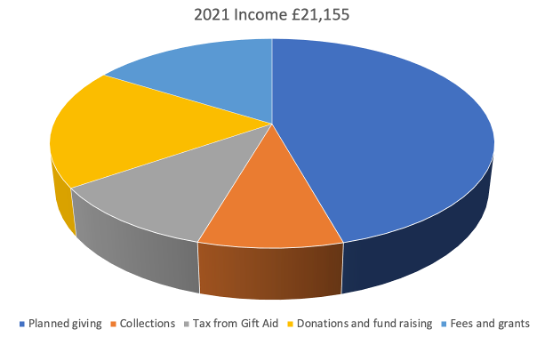 Planned giving is by direct debit or standing order. Note that at the moment we spend more than we contribute – this cannot continue.